More of Your Wooden Boats
(Page4)
Here are more of Your Wooden Boats, these are the Boats that other people like us are working on.
Your Wooden Boats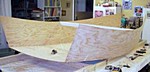 Al Hubbard has just started building a Warren Messer Drift style pram.

Tim from Endicott, USA, is having deal with the delaminated plywood on the deck of his 1973 30' Carver Mariner.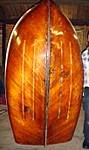 A poor little Fairey Marine Duckling with No Name.

She is about to be restored by Gill in Winchester.
A lovely little project boat.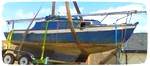 21ft Westerly 'Westcoaster' by Dave from Liverpool UK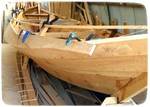 This traditional 23ft/7M Kinderdijker Hoogaar is being built by André in the Netherlands. .
Tom's Dither
Dither is a Yorkshire One Design, this is the oldest One Design class still sailing in the UK.
Tom has rescued her and is now about to restore to her former glory.
This is about my own recent restoration project.
Mignonne is very nearly as complete as any wooden boat is likely to get.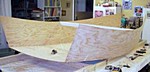 Al Hubbard has just started building a Warren Messer Drift style pram.
Richard in Australia is restoring Maya is a 30 ft Huon Pine cutter, built by the well known Cuthbertson family in Hobart in 1923.

Finley's Folley is a 31' Fairliner built in 1962 now being restored by Grandpa David in Oregon.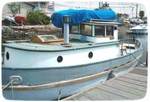 A 1947 Grandy -Double Ender by Capt RobWilmington, California, USA.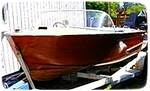 A 1965 16ft Century Resorter being restored by Tim in the US.
In every recession there are bargains,like Henrik's to be had.
Project Boats like this are the silver lining to even this economic cloud.
Frankee's Mourne Lass
Frankee is restoring an MFV project boat in Devon in the UK.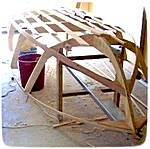 Andrew from Hobart in Tasmania, Australia is building a Glen L designed plywood power boat.
Lots More of Your Wooden Boats
Page 1
Please use the form below to share your story..
We all love to see what other Wooden Boat Builders and Restorers are up to.
Photograph Uploader
If you are having problems uploading Photos or would like to add more click on this link for the Upload Form.
You can upload as many as you like and there is no need to resize them.