60s Sea Hawk
by Eddie Gregory
(Ireland)
Hi,

What a great site you have, a treasure to any budding boatbuilder, thanks.

I have just started building a 21-foot Sea Hawk cabin cruiser from plans freely available on the web.

So far I have built the 5 frames in oak and am just finishing off the transom.

Will not get excited until I see it laid out.

Check out my wee site at www.floatyourboat.

The plans specify 3/8 ext ply but i'm using 3/8 marine ply and fibreglassing over.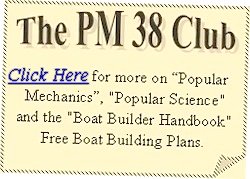 How many layers do you think I should use?

I am also going to glass the bilge area inside.

I'm having trouble using soft brass screws.

Seeing I'm glassing her do you think I should use plated steel star-head screws instead?

Thanks again.

Eddie


If you wish to add more photos (or videos) to your post or if you have any problems loading photos use the link below (there is no need to resize or adjust your photos).
But please use the 'Description Box' to indicate to which post the photos belong.
Click Here to securely send your photos,