Free Motorboat Plans
This is a selection on some of the Free Motorboat Plans that were published in "Popular Mechanics", "Popular Science" and the "Boat Builder Handbook" yours to download for free (pdf).

If you need help with lofting out the plans click here for an article here which should help.
Runabouts
The PM-38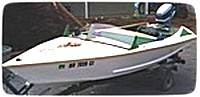 Plans for the "PM-38" free motorboat plan first appeared in the August 1962 issue of the "Popular Mechanics" magazine.
It was named the PM 38 because the magazine claimed that it could, not only be built in 38 hours, for a materials cost of a mere $38 (
1962 prices
) but would, when launched, do 38 mph.
The one pictured was built by Mark, in Harpers Ferry, West Virginia.
---
The "Mustang"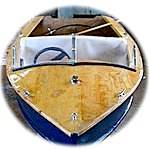 This is a sound, basic design contains plans for constructing sleek-looking 10, 12 or 14 footers, all based on a design tried and proven.
Note the attractive tumble-home, the minimum number of frames, the major portion of the bottom constructed from one standard-size plywood sheet, which is stressed for maximum strength.
"Little Sanity" (pictured) is Matt's first boat build.
---
Blitzen

This Blitzen design makes either an ideal fast utility boat or a racer hydroplane.
Its hull does all right for itself with the more powerful 25hp Johnson and Evinrude motors in smooth and rough water, and on either the utility or racer hull, it's bevelled chines give you an easy manoeuvrability.
---
Buzz
Buzz is a versatile, planing outboard runabout measuring 11 ft. in length with a beam of almost 56 in.

It is lightweight with strong and sturdy constructional features, seats four passengers and uses such outboard motors as the Evinrude 9.7hp, Johnson 9.9hp, and the Mercury 10hp.
Buzz will plane a remarkable load at high speeds, equalling other boats with twice the hp.
It also manoeuvres well in rough or smooth water, making turns easily at wide open speeds. As a lightweight, portable boat Buzz may be loaded atop any auto for sport trips.
---
Fire Fly
Fire Fly Is a high speed, stepped, outboard hydroplane.
A new but thoroughly proved method of venting the step for top speed, and a new bottom design, make this sporty craft fast, efficient and seaworthy on smooth or rough water.
Fire Fly will exact every bit of speed possible from the power utilized.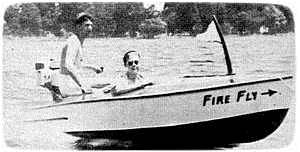 Outboard motors of 15 to 50 horsepower are best adapted to this super speed runabout.
With this hull, the Evinrude Big Four (rated conservatively at 50 horsepower), can plane six persons with ease, haul aquaplanes, and attain speeds approaching 60 miles per hour.
However, an outboard motor such as the Johnson Twin (developing around 25 horsepower), will give very satisfactory performance.
Fire Fly measures 14 feet long with a beam slightly over 5 feet.
The completed weight of this hull is close to 275 pounds.
---
Merry Maid
Merry Maid motorboat plans for the man who desires a roomy little runabout capable of good speed and having rough-water ability.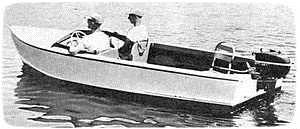 With her graceful, sweeping sheer, she is a saucy little packet.
She has completely pleased her original owner and may interest those of you who desire an inexpensive, easily built boat.
Under way Merry Maid runs cleanly at either high or low speed, banks beautifully, and has sufficient stability, despite her light weight, to allow a couple of passengers to sit on the side decking without fear of being tossed overboard.
The boat is large enough so the passengers sit down in it rather than on it.
---
Playboy
Sharp styled like a sporty inboard, that's Playboy.

From her wrap-around spray rails to the walk-through entrance to the forward cockpit, Playboy simply exudes class.
With a Johnson or Evinrude "25", Playboy will step around lively at 32 mph.
Extras include a "glove compartment" for fishing gear, charts, odds and ends, smooth floor to save scrambling over frames and mahogany planking and deck.
Ideal for sports, Playboy packs plenty of power for skidding aquaplanes or water skis or hauls up to six persons seated.
Even with the convex bottom, you can plank Playboy with plywood sheets that keep it dry and take all the punishment a fast ride on a choppy lake can dish out.
---
Riviera
You can do more than just wish that you had a sleek, powerful, mahogany-decked runabout like Riviera.

By constructing it yourself you can turn out this eye-appealing 38-mph boat that will be the pride of the lake and a treat to ride in, yet spend only 1% the price of even modest boats of the same size and power.
You can further fit Riviera to your pocketbook by bargain hunting and using just the amount of trim you wish.
---
Sea Rover
What's your cruising pleasure?

Chances are, these adaptable motorboat plans have what you want.
You can build this motorboat plan as a stylish open water sportster.
If you prefer, Sea Rover can be made as a cabin cruiser.
Or if you just want to get around with ease, there's the economy style outboard utility model of Sea Rover.
And that isn't all. If the 15-foot length of motorboat plan is too snug for you, for a few more dollars you can convert this plan to a 17-footer.
If you have trouble getting marine grade plywood, you can use the lap strake planking instead of plywood covering.
And, finally, you even have a choice of motor mountings for rough or smooth waters.
---
Shore Lark
Fast, safe, and seaworthy on almost any waters, this general utility runabout will afford long happy hours of sport and repay its construction many times.

Adapted to the use of outboard motors from 1 to 24hp, the utility runabout will plane safely, at speeds from 5 to 45 mph and easily carry four or five persons depending upon its power.
This motorboat plans is designed to eliminate difficult joiner work, the "Shore Lark" is easy to build and presents a lightweight sturdy hull that one can build for a fraction of the amount he would have to pay for a finished boat of this type.
Cabin Cruiser Free Motorboat Plans
60s Sea Hawk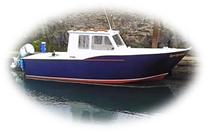 This big, roomy cabin cruiser is ideal for overnight trips on protected waters or day time deep sea fishing.
Sea Hawk's forward cabin has bunk space for 2 adults and 2 children.
The "Sea Hawk" pictured has been built by
Eddie Gregory in Ireland using the free motorboat plans.
---
Ha'penny
Here are plans for a pint-sized V-bottom express cruiser that will really get up and go.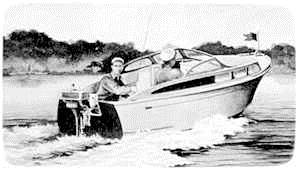 Under the impetus furnished by a 33.-hp. outboard, she'll do 23mph with two people aboard.
And she'll cruise along economically with this power at 19mph.
Her name? It's taken from a couple of lines in an old English Christmas song that fit the desires of boat-hungry fellows in moderate means:
"If you haven't got a penny, then a ha'penny will do.
If you haven't got a ha'penny, then God bless you!"
---
Chum
This convex bottom (hydroconic) runabout is 15½ ft. long with a beam of 6 ft. and a maimum draft of 20 in.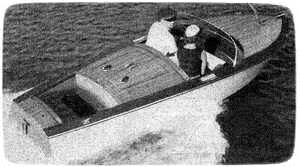 You can use either a double cockpit or a single cockpit style for utility use.
The Chum motorboat plan was designed for use with a Manned Jeep Engine (such as the Lehman Econ-o-power, which develops 60-hp at 3400 rpm and will propel Chum at over 30 mph).
Any 25-100hp similar engine may also be used to power Chum, as long as the motor is of light weight, high-speed design.
---
Caballero
Caballero motorboat plans were designed for' the amateur builder who desires a roomy, fast, and comfortable cruiser without the attendant high building and upkeep costs usually associated with inboard craft.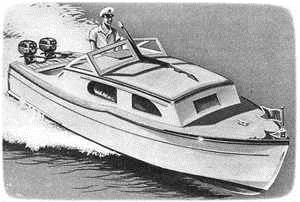 This motorboat plan is a direct development of an earlier design that has proved successful in the hands of a large number of builders.
The cabin provides comfortable quarters for two.
Besides the berths, it contains a galley stove, food locker, icebox, water-closet, and adequate storage space.
There is not, of course, standing headroom but there is, however, ample sitting headroom.
That is all you can expect in a boat of this size; so don't be persuaded by some misguided amateur adviser' to increase the headroom in hope of making a better boat of her.
---
Dolphin
The Dolphin, is the answer to low-cost travel over protected waters.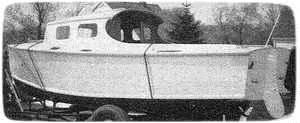 The hull is light enough to be transported anywhere by trailer and the boat is of a size to be easily handled.
It will accommodate two persons for extended trips or a party of four for day cruises and do it comfortably.
---
Eager Eve
From 50 feet away you'd swear that Eager Eve was a luxury inboard cabin cruiser.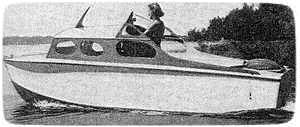 A cover hides the 25 hp outboard motor that drives this efficient cruiser fast enough to keep up with or outrun nine out of ten inboards.
In a first test Eager Eve, powered by an Evinrude 25hp motor made 22 mph with one person aboard.
Without a heavy inboard engine, you can transport it easily on a trailer and store it in a garage.
---
Sea Angler
Sea Angler is a 20-foot version of the deep-vee hull type that has the ability to provide a high turn of speed with minimum pounding in rough seas.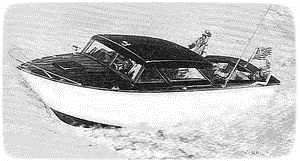 For Sea Angler, an engine of about 150hp is recommended, either as a straight inboard, an inboard/outboard, or a pair of outboards.
This can give the boat a top speed of about 38 mph, and a cruising speed of about 32 mph.
The flexibility of power options allows you to use an automotive conversion of your own choice, in addition to stock marine engines.
Construction is of plywood panels over hardwood frames, which makes the job simple for anyone familiar with the use of common hand tools.
---
Nancy Jane
The Nancy Jane is an all purpose craft designed to fulfil a great variety of uses in one boat.

With a length, beam, and depth generous enough to be usable anywhere, these motorboat plans provide a craft that may be equipped with a marine or converted auto engine from 15 to 100hp for speedy, stable riding service on open or sheltered waters.
For those to whom cruising is the ultimate relaxation Jane may be equipped with one of the trim cabin designs shown or utilized as a double cockpit runabout.
However the basic design as indicated upon the plans is that of an open cockpit utility runabout which is not only easy to build, requiring the minimum of labour and materials, but for all around use such as fishing, hunting, surf board riding and short pleasure trips this model would be difficult to surpass.
---
Sportsman
Sportsman is a unique cruisette having a combination of runabout and cruiser features, but is well adapted for day cruising or short trips almost anywhere.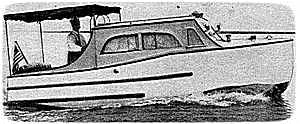 "Sportsman" is a self-contained, seaworthy, open-water Free Motorboat Plan for week-end cruises or short overnight fishing trips that will accommodate a pal or the "missus".
It may be transported by trailer wherever desirable.
Designed to be powered with high sped converted auto or marine engines from 15 to 90hp, "Sportsman" will go places in a hurry and provide protection during inclement weather.
It would be difficult to find a trimmer and more attractive cruiser.
---
Previous posts
See What Others Have Posted