"Little Sanity"
by Matt
(N.S. Canada)
The name came from what I wanted from this little boat, to get on the lake to do a bit of fishing and relax, thus giving me...a "little sanity" :)

This is my first boat build, the old plans were free, and found online and called "mustang".

I went with the 10 foot version to make it easy to put on back of my pickup.

The framework etc. is hardwood(mostly ash), the hull is planked with 1/4 inch fir and epoxy resin glued, stainless steel screwed and epoxy resin coated.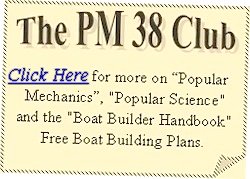 I changed the deck slightly from the original plans, and made my own windscreen and frame from 1/4 inch plexi and some stainless window track, and some aluminum rod (whatever I had around).

I have a teleflex rack under the dashboard, but HAD to use the boat before getting it all mated up to the 7.5hp evenrude,

I did purchase some marine vinyl, and foam to make backrest and seat pad, but haven't installed yet.

This project took me approx. 50 hours, spread out from the end of April 2011, to early June.

Although not 100% finished, my youngest son and I just had to get it on the local lake while the fishing was still good.

This little boat performs really well for what it was intended, and I had lots of fun building it.

I am considering another project now, which lead my search here to Mark's beautiful PM-38 photos, and so many other fantastic wooden boats. see "Bill Collector"

Cheers-Matt


While the original system worked quite well as a one-off post, it didn't allow for updating or posting new photographs etc.
That is why I have introduced the new Your Pages.
This is new 'Community' platform is for 2018.
It is designed to put you in control of your content, make it easier to for you to tell us about your Wooden Boat, upload photos etc. and most of all post updates as and when you wish to.
There is also a forum where you can ask any questions you may have about Wooden Boats and join in the conversations.
So, please come on over and join our community of likeminded Wooden Boaters.