"Bill Collector"
by Matt
(N.S. Canada)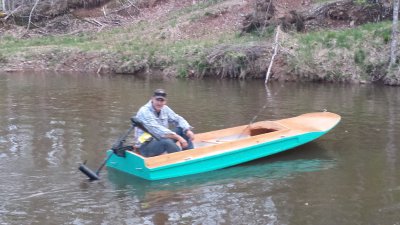 first wet test
Hi all, this is my 12 foot duck boat I call "Bill collector".

Made for fishing rather than waterfowl.

I made this in the spring from "Sneakbox" plans found on the Svenson's website.

It is pine framed and sides, fir hulled with epoxy resin coating, fibercloth embedded in the first 1/3 of the hull.

Pecan stain where not painted, floor is marine paint and sealed, diamond pattern foam rubber lined floor.

The keel and runners are maple.

I have outfitted with a sounder, lights, trolling motor, and run a resurrected 50's Johnson QD-16 outboard (yes its fast).

This little boat was a blast to build and performs better than I could have ever dreamed!

Two large guys can stand and move around at will with absolutely no sense of tipping, and is light enough to simply pick up and load in a truck with ease.

I have had many compliments from people when I take this boat on the water.

Total cost less than $700 with materials left over, and around 40 hours spread out over a few weeks.

I hope you like it.

Cheers-Matt




Photo Uploader

If you are having problems uploading Photos or would like to add more click on this link for the Upload Form.
You can upload as many as you like and there is no need to resize them.