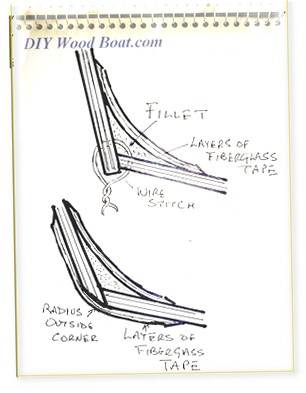 Stitch and Glue Fillets
The reason that stitch and glue is faster and simpler than traditional methods is that it eliminates the need for chine logs, complicated forms, and tricky clamping.
And the major factor involved is the use of epoxy fillets.
These not only glue the plywood panels but also cove out the inside corner where the panels meet.
Fillets are very easy to apply and add to the strength as well as enhancing the boat's appearance.
Fillets are made with thickened epoxy.

There are many thickeners available commercially, such as micro balloons, talc and silica.
You can use sawdust, white wheat flour, pulverised limestone and even Portland cement.
Whatever you use the point is to produce a mixture that won't sag or run and will be easy to smooth and will sand easily when cured.
Ideally the mixture should be the consistency of smooth peanut butter.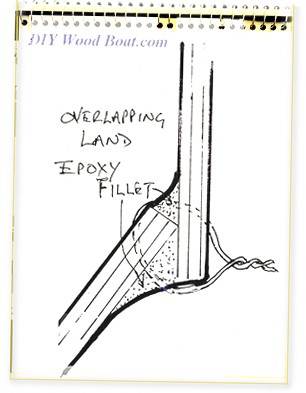 Overlapping Joint
Apart from the mixing spatulas and cups you will want one or two plastic spreaders or squeegees.
You could use an off cut of wood but thin plastic is easier clean and shape.
Radius one edge of the spreader to suit the fillet, a 2 inch radius will do for most seams in a small boat.
Once the thickened epoxy is mixed to the ideal consistency you need to get it onto the seam quickly before it begins to 'go off'.

You won't have a lot of time so make sure every ting is ready and you have decided where it is to go.
Then scoop big blobs of the thickened epoxy every foot or two along the seam.
Then start to smooth it out with the filleting spreader.
Use the flat side of your squeegee to scrape away the epoxy which squeezes out on either of the fillet before it can set.