Wire Twister Tool
The humble Wire Twister Tool is a superb gadget for tightening the wire stitches holding your stitch and glue panels.
This tool can be found on almost every farm.

Normally it is used to tie the necks of sacks, such as full potato sacks.

There are several variations on the basic principle but the standard tool is simply a hook, on a bent shaft which, turns within a wooden handle.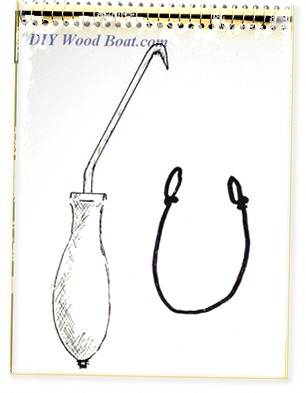 They can be bought at any agricultural suppliers complete with ready made wire strips.

You could even make one yourself.

Using it is simplicity itself.

All you need is an eye bent on each end of the wire.

Slip the hook though both the eyes,
Pull on the wire,
Then give it a twirl,
The wire will instantly twist and draw tight,
How tight is controlled by how hard you pull.
This handy device can be used in any number of situations where a temporary hold is needed.
Anyone steam bending frames can quickly run out of clamps to hold the frames to the ribbands.
With a pocket full of ready bent wire ties and a twister, the frames can be quickly and firmly tied in place.
Though it must be said, most builders are now using plastic cable ties instead of wire.
Thought for The Day
"The world looks with some awe upon a man who appears unconcernedly indifferent to home, money, comfort, rank, or even power and fame.

The world feels not without a certain apprehension, that here is someone outside its jurisdiction; someone before whom its allurements may be spread in vain; someone strangely enfranchised, untamed, untrammelled by convention, moving independent of the ordinary currents of human action."

(Winston Churchill, 1874-1965)
Latest
May 22, 19 12:03 PM

1973 Carver Mariner 28'and two axle trailer selling separately. Can be seen this weekend in Endicott, Washington at 305 G St. I am selling my house here

May 22, 19 01:45 AM

Greeting Everyone. Of all the many things I've tried in my life, sailing has been by far the most rewarding. Even after 45-years at the helm, I

May 18, 19 10:20 AM

Looking for photo of USCG 30 ft wood lapstrake.
Have your say.
Please share your thoughts or comments about what you have just read on this page.