Normally wedge seam repairs are only used as a delaying tactic to keep an old tub afloat for another season or two.

However, Thomas Larsson is successfully using this technique in Sweden to keep their vintage wooden boat fleet afloat.

Thomas describes his method of wedge seaming or 'splining' in his book the "Big Book of Wooden Boat Restoration".
The technique is used mainly on old boats that have been re-caulked so many times that the seams have become uneven, so wide that the caulking has been driven right through.
All the old caulking is first removed then the seams grooved with a router or saw as described above.
Wedge seams can stop leaks and stiffen up an old boat.

However, there are a number of caveats.

There must be no distortion or hogging of the hull, wedging will not correct this, on the contrary it will make it permanent.

The frames and plank to frame fastenings must be in good order.

The planking should be reasonably dry before starting to wedge seam an old boat.

Once wedged the moisture content of the planks must be kept reasonably constant.

If the planks are allowed to expand and contract unduly the planking will be pushed away from the ribs, fastenings will fail and ribs may break.

It is best to keep a wedged boat in the water all year round.

However, a wedge seamed boat can be hauled out for the winter providing the ambient atmosphere is reasonably damp.
Splining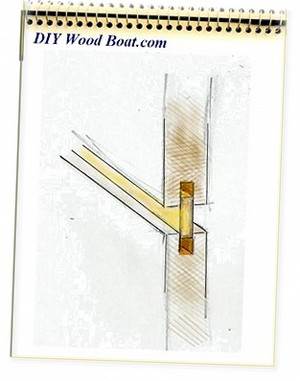 Thomas Larsson refers to this technique as 'Splining' in his "Big Book of Wooden Boat Restoration", p 87 to 95.

However, this should not be confused with Splined Seams as described by Larry Pardey in his book "Details of Classic Boat Construction" chapter 21 page 368 to 390.

The Pardeys used this method to build the transom on "Taleisin" however, the splines were not glued