Don's Picaroon
This delightful Picaroon is being restored by Don in Canada.
Don is trying to discover more about her history.
If anyone recognises her and can give Don any information please let me know and I will pass it on.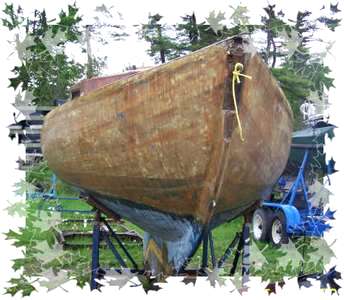 The 'Picaroon' was a classic tabloid cruiser designed by Sam Rabl way back in the early nineteen twenties.
He initially designed her as a hard-chined I8-foot cruising sloop, for his own use.
Having proved her sailing abilities, in all sorts of weather on the Chesapeake, Rabl published her plans in the June of nineteen twenty five.
She proved to be a remarkable little boat and the design became popular worldwide.
Sam Rabl became famous for all the boats he designed for the backyard craftsman to build.
This particular design was featured as on of the designs in Sam Rabl's popular book 'Boat Building in Your Own Back Yard'.
There have been many stories of sailors who have crossed oceans and weathered ferocious conditions in these boats.
Don tells me that his boat has been strip planked with mahogany.
She certainly looks to have a fine weatherly hull shape.
I'm sure she will provide Don with many hours of fun.

Bringing the restoration on Don's nifty wooden Picaroon up to date >>>>
There is another delightful Picaroon for sale in San Diego.
And Burton is another Canadian with a Sam Rabl-designed Picaroon II
Please use the form below to share your story..
We all love to see what other Wooden Boat Builders and Restorers are up to.
Previous posts
See what others have posted