Precious a Sam Rabl designed Picaroon.
by Annie Holmes
(San Diego CA, USA.)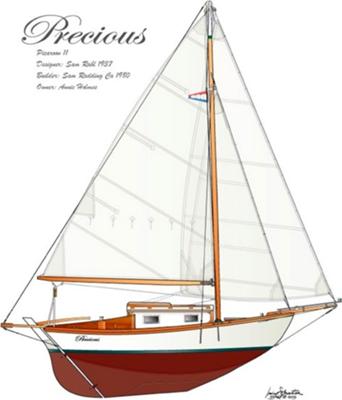 Annie's Picaroon
Hi Mike, here are some stats on Precious.

I've owned her for 25 years and keep her in tip top shape.

I bought her from her builder, who is a consummate craftsman. He builds gorgeous custom violins and guitars, and he built this boat over a two year span and put her in the water in 1980.
I bought her in early 1985.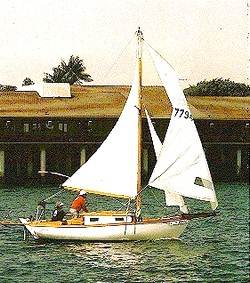 She's a departure from the original design in that her builder made her a Marconi cutter rig instead of a gaff sloop with running back stays.
And that explains the boomkin and bowsprit, which are not on the original drawings.

She is much easier to sail single-handed for that reason.

She is 1" x 3/4" strip-planked mahogany over oak frames, and is water-tight.

She was coated with epoxy inside and out before launching.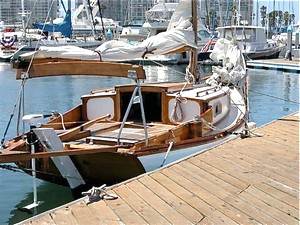 Her decks and lazaretts are teak.

Her keel is a little deeper than the original plan, with a 700# lead insert.

She is 18.5' on deck and 24' overall.

Her beam at the widest point is 8'1".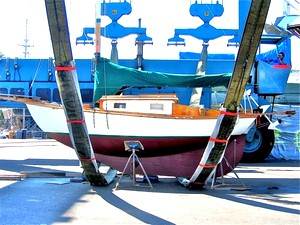 She displaces 4,000 lbs. and draws 3.5'.

She is a dream to sail, and I've won lots of racing trophies with her, racing against other wooden boats.

She's taken prizes at local wooden boat shows as well.










She is roomy and lovely inside: varnished louvered cabinets, a working sink, lots of storage, and two six-foot bunks.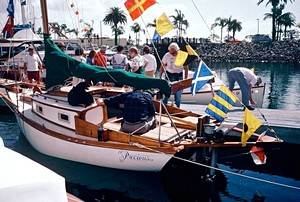 Her varnish always looks good because I invested in a 3-piece Sunbrella full boat cover years ago.
I have replaced it twice, and it saves me time, agony and money.

I have used her gently over the years and she always gets double-takes wherever we go.

She has a full compliment of sails, including a spinnaker, 180 lapper, staysail, main and jib.
My jib is an old Hobie jib which fits fine.
I should get serious about replacing it, as the plastic window is cracked. One of these days I will if someone doesn't buy her first.

I'm now in my seventies, and I have another Rabl boat, a mahogany strip planked Titmouse, which is on a trailer and will be cheaper and easier for me to maintain.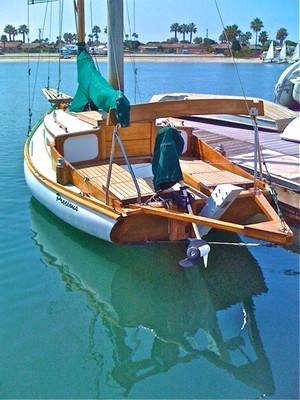 Cheers, Annie





Another delightful Picaroon is being restored by Don in Canada.



Back to Wooden Boat Projects Page