Wooden Boat Women
Is there anything Wooden Boat Women can't do as well as the men?
Some might regard a traditional looking boat made of wood as being simply romantic and impractical.

That is an argument I hotly disagree with especially when you factor in environmental considerations.

While wooden boats may be romantic, they certainly are not impractical and they do stand out from the crowd of mass produced 'plastic' tubs.

And there is nothing impractical about the many outstanding girls who are building, maintaining and sailing their own wooden boats.

Nor does being a practical female mariner mean not being romantic or sexy, just ask Kim Carver of Jack Tar Magazine.
Wooden Boat Women Who Have.
Whatever women do, they must do twice as well as men to be thought half as good.
Luckily, this is not difficult.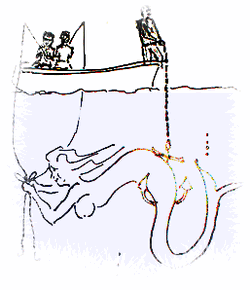 Now, there are no end of women who have gone sailing, some single handed, some as chief cook and bottle washer with a male partner.
That is not to say that victualling etc is not important but I think it is fair to say that most of these girls have contributed much, much more.
I'm pretty sure that women such as Annie Hill and Lin Pardey were more than willing to get their hands dirty.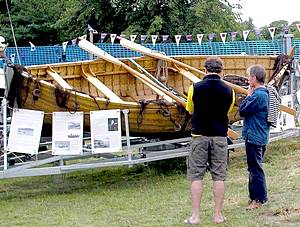 And when it comes to building anyone who is of the opinion that wooden boat building is a male preserve should check out Gail McGarva.
Gail is one of the very few people who builds wooden boats "by eye".

And then there's Julia, from Jamestown, Rhode Island, who is circumnavigation aboard her wooden boat, Macy, which she built herself.
And here is une jeune fille in France blogging about how she is building her second kayak.
Someone who hasn't quite got to that stage yet is Gill from Winchester in the UK. her Fairey Marine Duckling may be small but from "small acorns..." as they say.
But you don't have to be a spring chicken to enjoy or appreciate having your own wooden boat.
Annie Holmes has been sailing wooden boats in San Diego harbor since 1984.
Now in her seventies, and still sailing she has also written about her experiences as well as being a celebrated marine artist.
For females who want more advice on the cruising lifestyle there is plenty of superb advice at Cruising Women on Yachts.
As the website suggests, the many "ordinary women" who sail are in fact 'Extraordinary'.
Stephanie Katz is another extraordinary young woman from the north eastern United States.
Her first taste of sailing was crewing on a tall-ship up in mid-coast Maine.
Now she spends her time on traditionally-rigged tall-ships and working towards further licensing and certification in the maritime industry.
Those who sail wooden boats are to my mind 'Extra Extraordinary Wooden Boat People'.
"A lady is a woman who never shows her underwear, unintentionally."
(Charlotte Whitton, Mayor of Ottawa)
Previous posts
See What Others Have Posted