A Skerry sailboat and an Apple Pie pram.
by Christine DeMerchant
(Toronto, Ontario, Canada)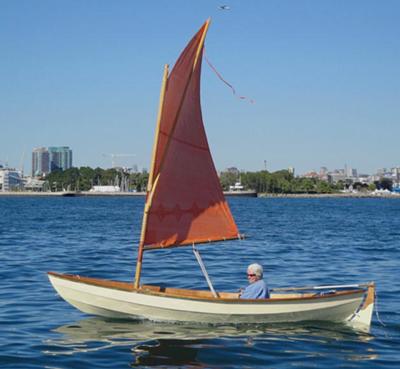 Sailing in my Skerry
I have built 2 stitch and glue boats.
My first boat ever was a Chesapeake Light Craft Skerry.
It is still my first love.
I sail her in Lake Ontario near Toronto, Canada.
I documented the build and my experiments in sailmaking here:
http://www.christinedemerchant.com/skerry.html
Last summer I built a small pram to use as a tender for my big boat. (Once bitten by the boat bug its hard to stop!)
My Apple Pie dinghy is a great success.
Not only is it very cute but works exceptionally well.
http://www.christinedemerchant.com/applepielaunch.html
Building a boat or two is a fabulous way of building confidence and I think it is a life changing experience.
While the original system worked quite well as a one-off post, it didn't allow for updating or posting new photographs etc.
That is why I have introduced the new Your Pages.
This is new 'Community' platform is for 2018.
It is designed to put you in control of your content, make it easier to for you to tell us about your Wooden Boat, upload photos etc. and most of all post updates as and when you wish to.
There is also a forum where you can ask any questions you may have about Wooden Boats and join in the conversations.
So, please come on over and join our community of likeminded Wooden Boaters.