Mermaid Lounge
by Darlene Summers
(Huntington Beach, CA)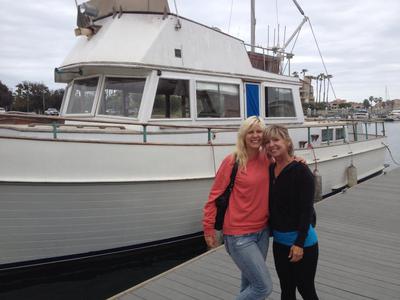 The Mermaid Lounge Me & My Daughter
I'm a girl...who knew that in 2015 that would be surprising for a project such as this...it still is!
I'm restoring my 42' 1969 Grand Banks Classic.
She's all wood and even though still very rough, I think she's a beauty!
I'm doing most of the restoration myself using knowledge I gained from the home building industry (not always applicable!) and plenty of advice from the old timers at the Yacht Club and Youtube.
After 20 months I've made some significant progress.
Most of the work required is cosmetic and maintenance related.
She has nicely 2 functioning Lohmann 120's.
We have had to work on her electrical, propane and plumbing to get them up to par.
My goal is the FUBAR (so very apt) Cruise which leaves So Cal every odd numbered year for Baja.
I think 2017 will be my year!