Helios, Ireland.
by Ann Marie
(Ireland)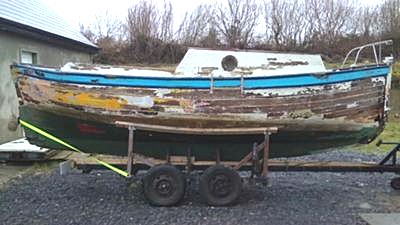 We found her in Co. Clare covered in white interior house paint.

We don't know how old she is.

We were told she is over one hundred years old.

After scraping THIRTEEN different paint colours off, she's revealed almost perfect teak/mahogany above the waterline and oak below.

We haven't started the inside yet.

However her bow was bent by the previous owner and a bad repair was done using lots of fiberglass and resin and we are unsure how to repair the damage, but we have just come across this website which is invaluable.

If anyone could possibly help us to identify a year or designer it would be great as we are trying to keep her as original looking as possible.

She's carvel built and double ended with a very pointy stern, not rounded as in Colin Archer.


While the original system worked quite well as a one-off post, it didn't allow for updating or posting new photographs etc.
That is why I have introduced the new Your Pages.
This is new 'Community' platform is for 2018.
It is designed to put you in control of your content, make it easier to for you to tell us about your Wooden Boat, upload photos etc. and most of all post updates as and when you wish to.
There is also a forum where you can ask any questions you may have about Wooden Boats and join in the conversations.
So, please come on over and join our community of likeminded Wooden Boaters.