Fairey Marine Duckling with No Name Yet
by Gill
(Winchester UK)
My boat is a Fairey Marine Duckling.

It's little. It has oars, but no mast.

I don't mind, I love rowing, I find it very therapeutic.

Not that it's something I do very often. My partner enjoys fishing, not that he does that very often.

Between us, we have the potential for some good days out.

I don't know it's age or anything much about it. It hasn't got a name.

I haven't actually got the boat yet.
A friend has been restoring it and can't finish it as he's about to go off on a 2 year tour of Britain and Europe. (lucky devil!)
I didn't know he had it, but when he showed it to me I fell in love with it.

Now he's given it to me to finish off.

I don't know a thing about restoring wooden boats, or any of the technical terms for things.

This is going to be a really new experience for me!

Hopefully I'm going to be able to find out what I need to know here, and eventually have a lovely little boat to play with.

---
Here she is at last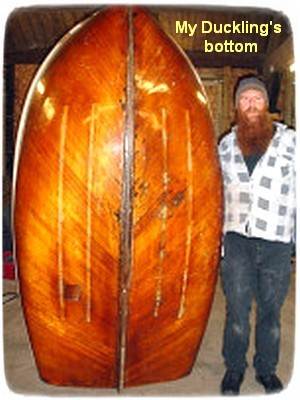 Collected yesterday and now residing in my partner's (that's him, the scruffy one), workshop, waiting for me to do whatever it is that I need to do.
I have to admit that this boat looked a lot smaller when it was in my friends back garden!
A bit of rubbing down I think, inside and out, and a coat of varnish or maybe paint inside.
I don't know.
There are a couple of patches, which look like they're probably quite well done, so I will leave those bits alone.
New runners underneath.
I understand that these are made of strips of wood with strips of brass on top.
Is this correct?
What sort of wood should they be and where would I buy it from?
Advice would be very, very welcome.
---
Here is another view of my duckling, any advice on what to do with the insides gratefully accepted.