"Lady Like Me", 1958 Sea Babe Restoration
by Barb McCullough-Jones
(Keizer, Oregon, USA)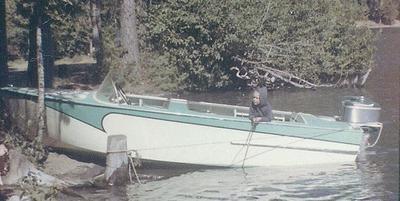 c1961 at Detroit Lake, Oregon
Now Know as
"Lady Like You"
My father-in-law built this boat in 1958 in his garage. This 15-ft. cabin cruiser was designed by William D. Jackson, N.A.
She has been passed around to family members and is now in my care. I've removed all the trimmings and completed sanding.
Next up is to paint her. I am totally intimidated by that process!
I would like to restore to the original colors and decorative painting. It's a beautiful 1950's turquoise with white base. She was a mess when I picked her up in Bend, Oregon two years ago. Stored in the open with a rotting tarp she amazingly had very little wood rot. I had that checked by a pro!
Any advice on diving into the paint project is appreciated.
The original windshield was fiberglass and cracked in the process of cleaning. A couple cleats are missing as are the gunwale bars. I'll be on the hunt for a few of these parts.
Any advice on my project is welcomed. I would especially like to find other Sea Babe owners.
Thanks for your help!
Barb
Lots more Photos here
While the original system worked quite well as a one-off post, it didn't allow for updating or posting new photographs etc.
That is why I have introduced the new Your Pages.
This is new 'Community' platform is for 2018.
It is designed to put you in control of your content, make it easier to for you to tell us about your Wooden Boat, upload photos etc. and most of all post updates as and when you wish to.
There is also a forum where you can ask any questions you may have about Wooden Boats and join in the conversations.
So, please come on over and join our community of likeminded Wooden Boaters.