Big 'D': A cabin forward Day Cruiser
by John
(Canada)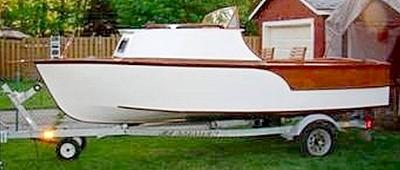 Big 'D' is a 16' forward cabin Day Boat with an open cockpit.

She features a vee berth for two and simple amenities.

Her unique feature is a "Retrousse" or reverse transom with an engineered bracket to support a modern outboard motor.

Big 'D' is constructed using the cold mould method with meranti marine ply over clear white oak frames.

Her hull is sheathed in fiberglass and encapsulated with epoxy resin.

Her trim is S.A. mahogany.


Want to add more photos?
Photo Uploader

If you are having problems uploading Photos or would like to add more click on this link for the Upload Form.
You can upload as many as you like and there is no need to resize them.