63 Owens Tahitian 40' is now part of the blowinganddrifting fleet
by Dean Bachelor
(Petoskey Michigan)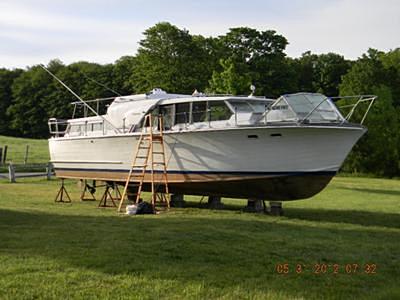 1963 Owens Tahitian
Hey everybody, this is my first post here, I found this site a couple months ago.

I bought a 1963 Owens Tahitian 40' and then found the guy with "No Remorse" the same boat.

I have a 1985 Catalina 30 TR that we have sailed for 12 years, before that were a Sea Ray 24 for 18 years and a Sea Ray 16 before that.

This thing is a real beast, she needs some work but 90 percent of it is done.

The best thing is I got it for $2.252 DOLLARS :)

I will be needing plenty of wood advise on this one.

Thanks and stay tuned, Capt. Dean

If you Google blowinganddrifting it should take you to my sailblog and my you tube channel.