1901 sloop "Herald"
by Caroline Edwards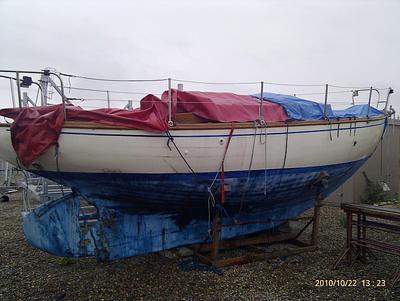 2010 saw this little lady and fell in love
1901 sloop "Herald".

She was originally a yawl but the mizzen mast was removed in the 1930s


NOT SURE WHAT TO DO AND WITH WHAT!

I have taken my boat out of the water last Nov to re antifoul her.

My partner at the time and I stripped her completely and brought her hull back up.

Looking closely now I have found cracks in the red putty I put on v soft under her anti foul not everywhere but in some places.

I stripped where the hull was wet I guess.

I will have to take out the putty and replace..

I don't know with what other than 3M 5200 adhesive sealant which I can't get or not sure I can afford it or that matter.

I'm on my own (novice) and am worried I may have to strip the hull completely.




While the original system worked quite well as a one-off post, it didn't allow for updating or posting new photographs etc.
That is why I have introduced the new Your Pages.
This is new 'Community' platform is for 2018.
It is designed to put you in control of your content, make it easier to for you to tell us about your Wooden Boat, upload photos etc. and most of all post updates as and when you wish to.
There is also a forum where you can ask any questions you may have about Wooden Boats and join in the conversations.
So, please come on over and join our community of likeminded Wooden Boaters.