Hard Luck (name to be changed)
by Jan Storbakken
(Craig, AK)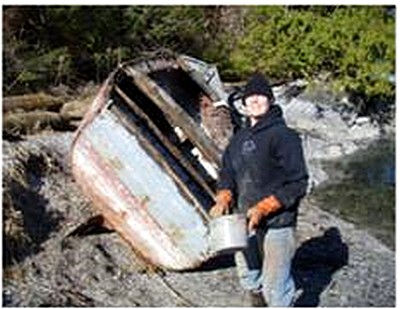 Wood is sound.
28 foot beached boat that just doesn't seem like her time is done yet.

At a minimum could be a show and tell for the local kids here.

Had a lovely, rip the topside festival.

Patched what we could to get her home and towed her back with a 18 foot lightweight fishing boat.

Would like to restore to floatable.

Will take all suggestions, haven't got a clue what I am getting into.

But I have been eyeing her for a long time.

She was a classic fishing boat here in Southeast Alaska.

Hard to believe people would fish, cook and sleep on her.


While the original system worked quite well as a one-off post, it didn't allow for updating or posting new photographs etc.
That is why I have introduced the new Your Pages.
This is new 'Community' platform is for 2018.
It is designed to put you in control of your content, make it easier to for you to tell us about your Wooden Boat, upload photos etc. and most of all post updates as and when you wish to.
There is also a forum where you can ask any questions you may have about Wooden Boats and join in the conversations.
So, please come on over and join our community of likeminded Wooden Boaters.