Teak Launch...Alice's "Cotton Top"
by Terry "Bone Daddy Boat Works" Deems
(Coeur d Alene, Id)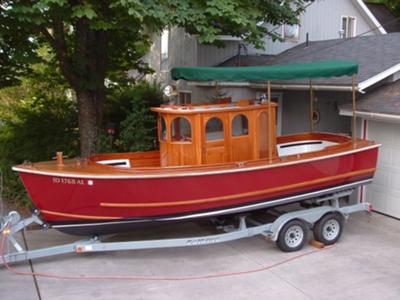 Custom Teak launch
Here is my buddy Murray's boat I have worked on for a few years now.


A one off, custom built in 1984, 24' Brunsnell ply with Dynel fabric on hull.
The rest of boat is 100% teak...yes she weighs over 2 1/2 tons.
Pathfinder 75 hp, 6 cyc diesel...14 knots, but pulls like a good mule.
When I did a refinish job in 2008, she won "Peoples Choice" award at the International wood boat show in Coeur d Alene, Idaho.
She sure gets a lot of looks at the local docks...
"Bone Daddy"
While the original system worked quite well as a one-off post, it didn't allow for updating or posting new photographs etc.
That is why I have introduced the new Your Pages.
This is new 'Community' platform is for 2018.
It is designed to put you in control of your content, make it easier to for you to tell us about your Wooden Boat, upload photos etc. and most of all post updates as and when you wish to.
There is also a forum where you can ask any questions you may have about Wooden Boats and join in the conversations.
So, please come on over and join our community of likeminded Wooden Boaters.