Teak Launch...Alice's "Cotton Top"
by Terry "Bone Daddy Boat Works" Deems
(Coeur d Alene, Id)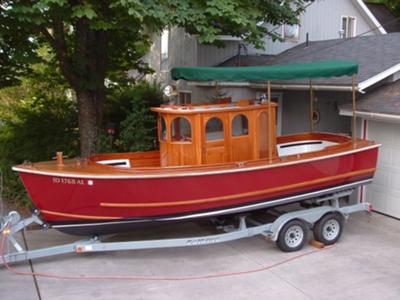 Custom Teak launch
Here is my buddy Murray's boat I have worked on for a few years now.

A one off, custom built in 1984, 24' Brunsnell ply with Dynel fabric on hull.

The rest of boat is 100% teak...yes she weighs over 2 1/2 tons.

Pathfinder 75 hp, 6 cyc diesel...14 knots, but pulls like a good mule.

When I did a refinish job in 2008, she won "Peoples Choice" award at the International wood boat show in Coeur d Alene, Idaho.

She sure gets a lot of looks at the local docks...

"Bone Daddy"