Fazackerley 12' King Billy Clinker dinghy -"Little Chook"
by Stewart Edwards
(Hobart, Tasmania, Australia)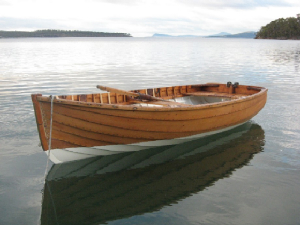 Late in 2007 we had decided to move from a hot Brisbane (Australia) climate to an Island climate in Tasmania, more precisely to Hobart.

During my volunteering days at the Australian Wooden Boat Festival earlier that year I had developed a friendship with a young shipwright who had a focus on wooden boats.

He found a sound 1963 Fazackerly clinker dinghy in need of some TLC, it was on a registered trailer with a 4 HP Seagull engine.

I commissioned him to pay the AUD $1,200 and restore her prior to our arrival in Hobart in Feburary 2008.

I have included a link (pdf) to the Skeg which is a publication put out by the Wooden Boat Guild Tasmania which includes a story of Little Chook plus other interesting information about wooden boats in Tasmania.

We use our boat for flathead fishing in the Derwent River and the Seagull engine fires and runs on the first pull.

I have included a picture for your interest.

Safe & happy boating.

Stewart Edwards

stewarte@motors.com.au

"Little Chook" is now for sale for details see >>>>>


While the original system worked quite well as a one-off post, it didn't allow for updating or posting new photographs etc.
That is why I have introduced the new Your Pages.
This is new 'Community' platform is for 2018.
It is designed to put you in control of your content, make it easier to for you to tell us about your Wooden Boat, upload photos etc. and most of all post updates as and when you wish to.
There is also a forum where you can ask any questions you may have about Wooden Boats and join in the conversations.
So, please come on over and join our community of likeminded Wooden Boaters.