12' Fazackerley King Billy Clinker dingy
by Stew Edwards
(Tasmania Australia)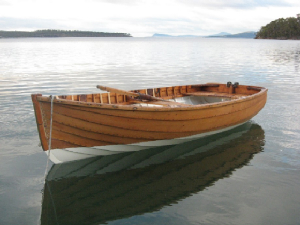 "little Chook" his beautiful 12' Reg Fazackerley built clinker dinghy.


Denman Marine restored this boat for the current owner a few years back and she is a delightful fishing/pleasure dinghy.


She is planked in king billy pine on Huon ribs with a NZ
Kauri transom.


She has a refurbished reliable 4hp seagull outboard. During
her restoration all paint and putty was removed, a new transom frame, 7
new ribs and a couple of plank splits were repaired.


The boat has been re-painted and the bright work has been
oiled for lower maintenance.


There is a wonderful age patina where she is finished
bright and the rear Huon thwart is just stunning.


She now has a new lease on life for another 20+ years.




To build a boat such as this today and fit it out with what it is
offered with would cost in excess of $22,000.


This boat is offered with a registered trailer, 4 HP
Seagull outboard, safety gear for sheltered waters, oars &
rowlocks plus anchor, chain and rope.


A fire extinguisher is fitted for safety when the engine is
in use and there are two rope fenders in keeping with the boats
heritage.


The boat also has a tailor made canvas cover made by a
local sail maker.




This magnificent piece of
Tasmanian maritime history is available for purchase at $12,000
More on "Little Chook" here >>>
While the original system worked quite well as a one-off post, it didn't allow for updating or posting new photographs etc.
That is why I have introduced the new Your Pages.
This is new 'Community' platform is for 2018.
It is designed to put you in control of your content, make it easier to for you to tell us about your Wooden Boat, upload photos etc. and most of all post updates as and when you wish to.
There is also a forum where you can ask any questions you may have about Wooden Boats and join in the conversations.
So, please come on over and join our community of likeminded Wooden Boaters.