I need to replace my rub rails on a 40ft timber cruiser
by Wayne
(Bairnsdale, Australia)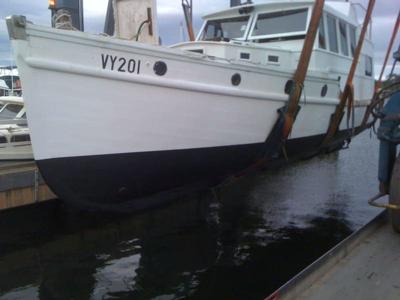 Hi, I have a old timber cruiser built in about 1876.

She is in quite good condition but the rub rails are destroyed in some areas.

I have seen some comments about replacing them with spotted gum but haven't found a lot of info
like,

- Do I used green wood, kiln dried or what, and what is involved in steaming?

- Does the whole rail need to be replaced or can I join sections?

the rails are about a rounded 4x2" on the aft and probably about 3x1.5" shaped on the bow.


While the original system worked quite well as a one-off post, it didn't allow for updating or posting new photographs etc.
That is why I have introduced the new Your Pages.
This is new 'Community' platform is for 2018.
It is designed to put you in control of your content, make it easier to for you to tell us about your Wooden Boat, upload photos etc. and most of all post updates as and when you wish to.
There is also a forum where you can ask any questions you may have about Wooden Boats and join in the conversations.
So, please come on over and join our community of likeminded Wooden Boaters.