40 foot Shantyboat / Houseboat
by Harry
(Adelaide)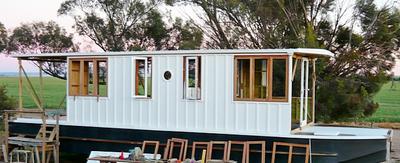 Update May 2014

June 2014

August 2014

September 2014

October 2014

December 2014

Comments

Progress in 2015

Progress in 2016


My Boat; building a 40 foot shanty boat / houseboat. 6 ton + to cruise the Murray River in South Australia.

I have the floats (plywood pontoons) built, and currently working on setting them up level and plumb, to fit deck beams and floor.

We are located about six miles from Mannum, in South Australia.





The town is regarded as a center for holiday houseboats.

There are approx.300 holiday hire boats based here, and a small support base for the design, building and maintenance of these craft.

The vast majority of these boats are outboard powered steel (or more recently alloy) pontoon boats.

My build is plywood on frame, so it`s not all that common, but there are a few smaller private boats built similarly.

The design of this boat is a result of some consultation with some local builders and owners of similar craft that have given good service in the past.

Now normally would always seek out a good suitable stock plan before starting a build , particularly of this size but after looking a long time , even on the internet , there appeared to be preciously little on offer.

The closest I found was an aging design by Glen L (US) called the "Mark Twain".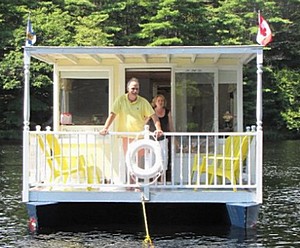 This design came close to requirements, but the layout and payload (displacement) was a little less than I was looking for.

The other boat of interest was the Botel 40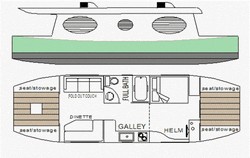 This design is by someone calling themselves Key West Boat Works, but after several emails and attempts to contact them to order plans I have yet to even get a reply.

I have since moved on.

So, it seems a long winded answer but I thought I would explain how this design came about.



Much more construction detail below.





~~~~~~~~~~~~~~~~~~~~~~

Progress update posted on May 24, 2014
Progress update posted June 2014
Update August 2014
Update September 2014
Back to Top of Page

Update October 2014
Update December 2014
Cabin lining and insulation is almost completed.
I am also making the ceiling panels , lining board bonded to 3 inch ( 75 mm ) foam.