1953 penn yan challenger
by Matthew Parobek
(Buffalo, NY, USA)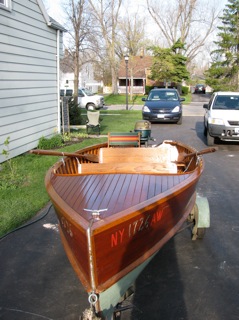 53 challenger
This is a 14 foot 1953 Penn Yan Challenger powered by a 1954 16 hp Scott Atwater Bail-O-Matic.

This boat was purchased in 1953 at a Penn Yan dealer in Buffalo NY.

It was used by a family on the Niagara river for weekend camping and so forth, always trailering it home again and parking it in the garage.
This went on for 14 years until the summer of 1968 when the boat was backed into the garage one last time.

For the next 42 years there it sat... and for no good reason never given a thought.

Until April 2010, when it was purchased by me for 500 dollars.

The boat is Penn Yan's strip tight construction with plastic core.

The hull is double planked mahogany outer and cedar inner planks on white oak ribs and trim.

There is no damage or rot to the the boat and no repairs have ever been made.

Because of an improperly adjusted trailer there is a spot on the bottom that has depressed slightly.
I have readjusted the trailer and I believe with a good soaking that this will relax a bit.

The motor needs some normal maintenance.
Shortly I will be replacing the coils and the main seal on the lower unit.
I have already replaced the impeller.

The only irreparable damage is the tip of the scedge, it's broken off.
I don't believe this will affect the performance at all but if i could find a green hornet lower unit for it I might be interested.

My plan is to run this boat for the summer, work the bugs out of it, and maybe sell it.

Don't despair I won't pawn this thing off to someone who will just let her rot in their back yard.

I feel quit a responsibility to make sure she is not miss treated.

It would be a crime punishable by at least jail time to let her slip through the cracks after she made it this far.

If any body has anything to add I would love to hear it I have only had the boat for a few weeks and have a lot to learn about it.

I am always looking for parts, maintenance tips for this hull type, or maybe what the value of something like this might be.

Anything anybody could add would be appreciated.