Coquette
by Jeffrey Unterschuetz
(Olga, WA)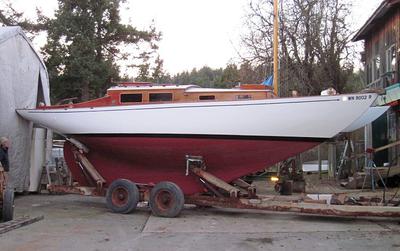 "Coquette", a 1950 John Alden Malabar Junior coming out of her tent after a 5 year refit.

Ready to have her mast stepped and be measured for new sails. Dec 2013

NEW TRANSOM

I have always admired bright finished transoms but Coquette's was originally painted.

So during her refit I planed some mahogany down to 5/16th inch and overlaid hers with this result.

The three pieces of mahogany were bedded in epoxy and fastened with silicon bronze screws, counter sunk, and bunged.

Also in this photo you can see the new stern chain plate.

I made this from 318 SS bar stock, bending it with heat, and polishing the SS.

This chain plate is twice as thick as the original but matches the midship shrouds nicely.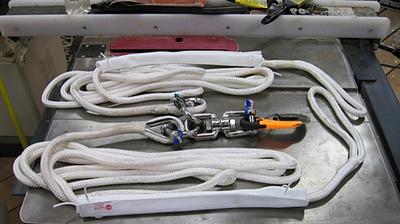 I have recently put in a new buoy and have made this harness for the critical connection between the buoy and the boat.>>>>>>



While the original system worked quite well as a one-off post, it didn't allow for updating or posting new photographs etc.
That is why I have introduced the new Your Pages.
This is new 'Community' platform is for 2018.
It is designed to put you in control of your content, make it easier to for you to tell us about your Wooden Boat, upload photos etc. and most of all post updates as and when you wish to.
There is also a forum where you can ask any questions you may have about Wooden Boats and join in the conversations.
So, please come on over and join our community of likeminded Wooden Boaters.