1959 Andress 26' utility boat
by Bill
(Canada)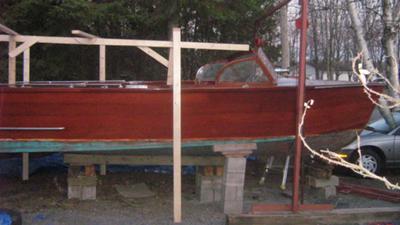 1959 Andress
Hi all,

just found this forum so I thought I'd post. I am presently restoring a 1959 Andress boat made in Rockport On Canada.

My first big boat project!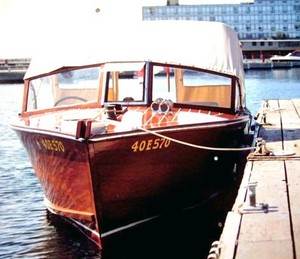 She was built by Ed Andress at the Andress Boat Works of Rockport Ontario Canada, who made wooden boats for the St Lawrence River (1000 islands) for years.

I think he did very few each year so at best there are only 3 or 4 like mine.

Here she is in her glory back in the 80's.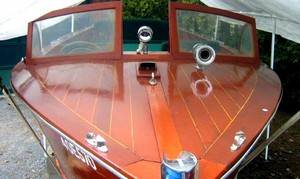 Here she is as she sits a few weeks back before starting on the bottom.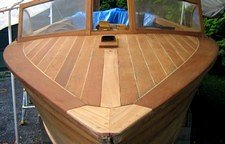 Had to do some structural repair to the bow area, replaced a few planks and a center top deck plank.





Stripped the boat entirely.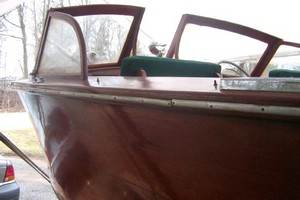 Re-stained and 8 coats of Varnish (2 more this spring) and the topsides are all done except to redo the seams.

Mechanically things are good, Engine was re-built a 100 hours ago and starts up right way.
Electrically..well outside of the ignition system..nothing works :) but it's a 1959 wiring job.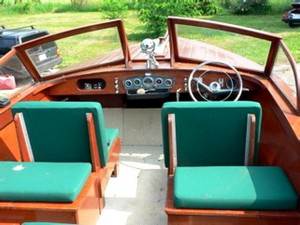 Hoping to have her back in the water for this summer.
Bottom is good, nothing soft ..reamed out all the old sikoflex and tar..yes tar..and have scarped all the loose bottom paint off.
Do have a couple questions for you all.
Wondering the best way to redo the top deck seams?
I am thinking 3m tape, sikoflex and a wet spoon?
The other is the bottom, completely different advice from too many sources.
Do I paint bottom paint, let the wood swell, sikofex and paint another coat over, or something completely different?
Really no idea, Have had people say stay original, spend lots on a 5200 bottom..even one guy say glass it.
Heard horror stories about that one.
Lots more work but I can see the end!
Thanks in advance for any help you have.
Bill
Kemtpville, On Canada