Patience a C&N Bucket of Rot Restored.
by Peter Radclyffe
(Italy)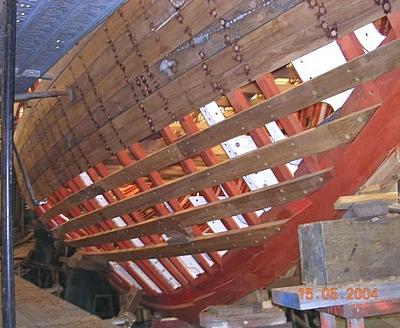 Patience
Clikc here to see the original of the above photo of Patience

Patience, A Shipwright Yesterday, Peter Radclyffe, copyright 2009.

The yacht had been converted into a ketch in the sixties, stainless steel honeymoon years, just before they all got into bed with fibreglass, which along with aluminium have to be some of the most ugly & dangerous post war products.

But I'm bound to be distressed by these things as my modus operandi is beauty & strength rather than speed & ugly design, all this junk hardware had to be replaced with new bronze hull, deck& mast fittings.

After supervising the masting & rigging & Modifying 80% of the rigging fittings on a 1930s, 30 metre De Fries Lentsch steel schooner built of lomoor iron , I started building another tender for the big class.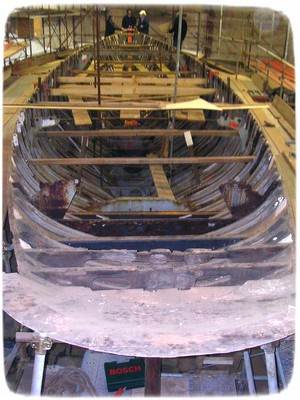 Click to see original


But I let that go when the C&N came in, it was just too exhausting doing the work of 2 or 3 men, costing all boats, chief boatbuilder & shipwright, foreman yacht joiner, masts & spars, rigger, designing, surveying, woman & man management, referee, peacemaker, for 3 big vintage yachts.

On top of being in charge of up to 65 people on the big class, I had to teach 35 people on Patience.

The core team were 6 Polish joiners, I didn't know what their trades were, because when I asked them they said they'd done it all, planking, framing, centreline structure, caulking, interior joinery, spars, tanks, blah-blah.

So, I gave them some tests, I asked them to pattern the fore deadwood & a plank.

I could see straight away they were lying to me because they were afraid of losing their jobs ,but no matter, they were hard workers & over 4 years I taught them how to be shipwrights.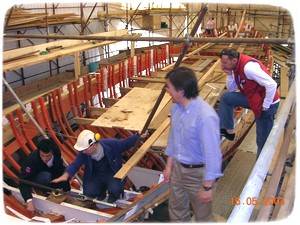 Click to see original



None spoke Italian & only one spoke a little English.

They knew no marine vocabulary in Italian or English, 2 spoke german which I continued to learn.

I bought a polish dictionary & translated tools, fastenings, parts of the boat, etc& put up these lists in Polish, Italian & English around the boats , the dart board & the vodka barrel.

The latter fell under Yanns' control, it didn't matter to me if they were half cut till half ten some mornings, if that was part of the equation of immaculate joinery, so be it.

On top of the big class my work load doubled, one headache was joiner Yann on one end of the tender & a fairer with applied filler on the other end.

I had to separate them before they punched each other out.

Also Mr Lacksadaisical on the tender figured his working week started on Friday night when he went snowboarding, another cute clown, there's one on every crowded scaffolding corner, shooting the breeze what wiv der fag butts an all.

Patience's hull was distorted on the stbd.