'G' Cramps.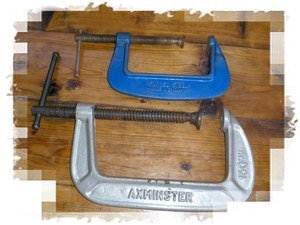 G Clamps
The iron 'G' cramps are the maids of all work, they are robust, available in a range of sizes, easy to use, cheap and almost indestructible.
A useful variation is the 'Edge cramp' which has an extra screw in the centre of the 'G', these are useful holding lips and curved surfaces.
The standard throat clearance is sufficient for most edge clamping.
However, deep throat or long reach versions are available.
Sizes usually refer to the maximum size of piece which can be held between pads.
These are meant to be tightened by hand using the tommy bar, using any greater leverage may damage the cramp and the work piece.
They do have a tendency to lose their buttons, these can be pressed back on and secured using a punch.

Always use wooden pads to protect your work.
The pads can be stuck temporarily to the cup with a bit of Blu-Tack while positioning.

Bar/sash Cramps.
For edge gluing panels, for bulkheads, transoms and the like there is little to beat the reach and grip provided by a sash cramp.
These are available in a range of sizes with the sliding jaw providing rapid adjustment from the maximum length right down to zero. 
The screw adjusted jaw is fixed to one end of steel bar while the sliding jaw can be positioned to suit.
There are various ways in which the sliding jaw is held.
From the traditional simple through pin, to a variety of Fast action, and cam cramps.
Some have 'T' section bars for extra rigidity.

Some of the smaller sliding bar types are categorised as 'G' clamps.
They have the advantage that they can be placed close together as there is no need to allow room to turn the tommy-bar.
Also available are the fast action type where both jaws are movable, by tightening the screw both jaws lock and jam on the bar.

Cramp heads are also available which can be fitted on to a wooden baton.