Penn Yan Captivator
by Keith
(Underhill, Vermont)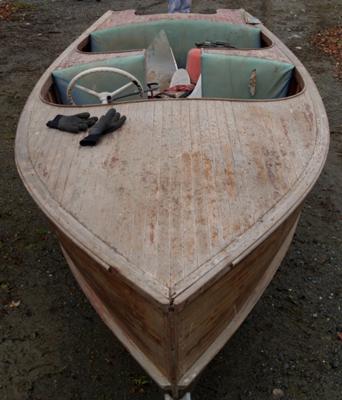 Price: Free.


Sitting in a barn since 1972, solid boat.
Not sure what to do with it.
Was looking at the property for my sister-in-law, walked into the barn, saw the boat and said" Wow, nice old boat!"
The owner said, "you want it?"
I couldn't say no.
I need reference and materials on the boat, how to find serial number and all that and advice on where to begin with her.
Does anyone know the value of a boat in this condition?
Anyone in VT who is interested in restoring for me?
I'm no expert but looks in excellent condition with little wood repair needed.
While the original system worked quite well as a one-off post, it didn't allow for updating or posting new photographs etc.
That is why I have introduced the new Your Pages.
This is new 'Community' platform is for 2018.
It is designed to put you in control of your content, make it easier to for you to tell us about your Wooden Boat, upload photos etc. and most of all post updates as and when you wish to.
There is also a forum where you can ask any questions you may have about Wooden Boats and join in the conversations.
So, please come on over and join our community of likeminded Wooden Boaters.