Anyone can caulk a boat, there is no magic involved. If I could do it, so can you.

On a new boat with its pristine seams it is pretty straight forward.

On an older boat it is a bit trickier.

However, anyone with a modicum of common sense (which unfortunately isn't all that common) will have no trouble doing a competent job.
The main thing to be aware of is, not to over caulk, this could lead to strained frames as the planking 'takes up'.

Oakum, which is made from hemp soaked in pine tar, is normally only used on the larger vessels with planks over two inches thick.

For most small to medium boats cotton is by far the easier more versatile material to use.
Preparing to Caulk
If you are working on a newly built hull you may need to open up any tight seams.

This can be done with either a dumb iron or a raking tool.

The dumb iron works best on the softer woods, the raking iron on hardwoods.

If re-caulking, make sure to clean out all the old compound and cotton.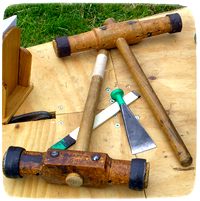 If you are going to use oil based putty as the caulking compound it is a good idea to prime the seams.

This can be done with an oil based paint.

It's a good idea to prime again once the cotton is in place.

This is probably the better method when re-caulking an old boat. If you intend using a synthetic sealant such as 3M 5200 check the manufacturers' recommendations for priming.

My own preference is for old fashioned, cheap and readily available linseed oil putty mixed with red lead powder.