Where to start?
by Justin Edelman
(San Diego CA USA)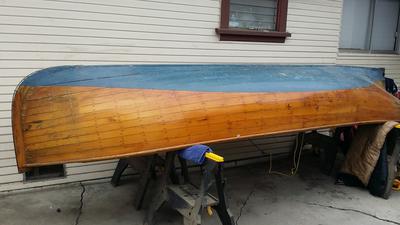 My dad recently gave me this old wooden boat. I am a NAVY veteran coming from a helicopter mechanic background but have no wood working experience.

I dont know where to start on this old girl.

Here is what I know.

She was purchased at an antique dealer in Maine probably 25 years ago or so.

She is an original Whitehall boat (NYC whitehall st.) built in the late 1800s.

She has a centerboard and was built to be able to sail but I dont have any of the original rigging.

Her condition.

She has some pretty big gaps from bow to stern between the planks that make her hull.

She hasnt been in the water for a very long time and was kept in a semi humid environment in New Mexico.

I can tell you right now that even if I left her in the water the wood wouldnt swell enough to fill the gaps.

The last 2 years she has sat covered in a backyard in San Diego.

The varnish on the inner side of the boat is in pretty good condition.

The varnish on the outside is over all pretty good except by her stern where she was exposed to sunlight.

Where the rudder attached at the bottom part of the stern completely disintegrated and rotted the wood.

I think this is the worst of the damage though.

I would like to keep her out of the water but use a trailer to take her out for a sail in the San Diego bay.

She would be my weekend sail.

Id really like to do the work to bring this piece of American history back to her glory.

Where do I start?

I started a Blog to post photos and put all the information I learn, plus the process up online https://www.tumblr.com/blog/ethelsailboat


Photograph Uploader
If you are having problems uploading Photos or would like to add more click on this link for the Upload Form.
You can upload as many as you like and there is no need to resize them.