How do you tighten clinkers?
by Tina
(Surrey, England)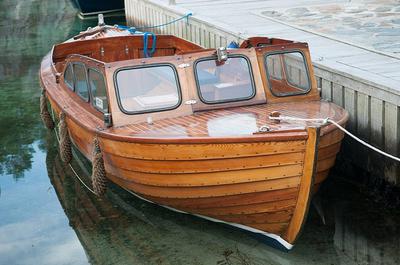 Hi

I have bought myself a lovely Norwegian snekke which I plan to maintain myself.

There's nothing wrong with her, but the last owner said he was planning on tightening the clinkers below the waterline as she leaks a bit.

I've asked a few boat people here, including professionals, and it seems to be a lost skill, as I haven't been able to meet anyone whose done it.

So, any advice on how I can tighten the clinkers?

Also, the previous owner suggested putting cooking fat on the seams before launching in the spring to help before the wood swells.

Have other people tried this or are there any other suggestions?

Many thanks

Tina


While the original system worked quite well as a one-off post, it didn't allow for updating or posting new photographs etc.
That is why I have introduced the new Your Pages.
This is new 'Community' platform is for 2018.
It is designed to put you in control of your content, make it easier to for you to tell us about your Wooden Boat, upload photos etc. and most of all post updates as and when you wish to.
There is also a forum where you can ask any questions you may have about Wooden Boats and join in the conversations.
So, please come on over and join our community of likeminded Wooden Boaters.