Dinghy Mooring
Easy dinghy, tender or small boat mooring.

Mooring can be a problem where access is restricted, especially if you are planning to safely leave your boat for a while, yet want to leave access clear for others.
Both methods require a small anchor or grapnel and a long painter or mooring line.
They are also useful for keeping your tender clear of any rocks or stone harbor walls that are likely to damage it.
Method One
This one is especially useful when using narrow harbor steps or ladders.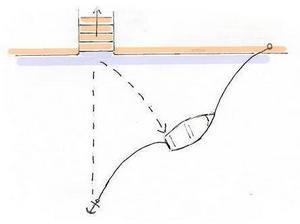 Dinghy Mooring to a Wall
As you approach the landing drop the anchor over the over the stern.

It is best if it is dropped roughly in line with and a reasonable distance off.

Pay out the anchor rode until alongside the landing then make it fast on board.

Step ashore while keeping hold of the long painter or mooring line.

This can then be secured to a cleat or bollard to one side of the landing, thus pulling the tender to one side of and away from the landing area.
Dinghy Mooring Method Two

This method can be used virtually anywhere.

It is particularly useful for mooring off a shoreline.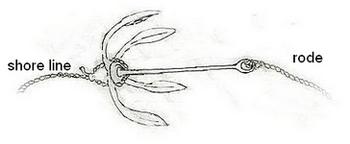 Grapnel for Beach Mooring a Dinghy
With this method the shore or tripping line is tied to the crown of the anchor or grapnel.

The idea being that when you want to recover the tender, pulling on the shore line will trip the anchor, this can then be pulled ashore and the dinghy with it.

As the boat is going to be held by the anchor there is not the need for the shore line to be tied to a mooring cleat.

It could be tied to a rock or a stick shoved into the sand, just as long as it will still be there and findable when you return.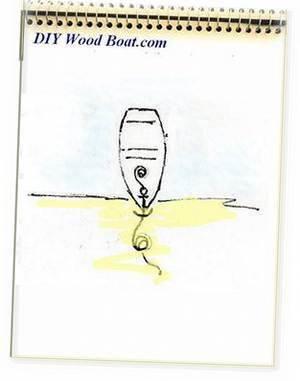 Dinghy Ready for Grapnel Mooring
So, once ashore measure out sufficient anchor rode, flake it so it will run out freely, and do not forget to secure the bitter end to the tender.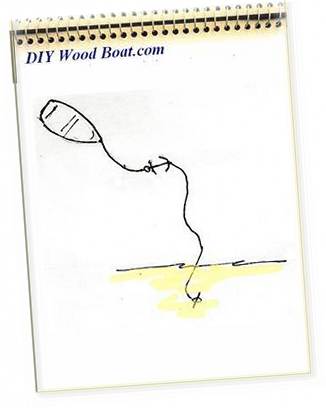 Beach Mooring a Dinghy
Flake the shore line so it too will run out freely.

Tie one end of the shore line to the crown of the anchor and keep hold of or secure the other end.
Balance the anchor or grapnel on the bow of the dinghy with the flukes hanging overboard.
Allow the anchor to set with some slack in the shore / tripping line.

Then secure the shore end of the tripping line where it can be found on your return.
affiliate links