Borates to fight Dry Rot
by Susan Gateley
(upstate NY Lake Ontario)
Ahoy,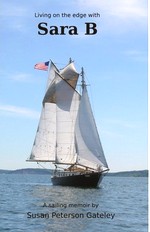 Living on the EdgeThose of you with older boats that have a few soft spots-

We had very good luck with using borates as a preservative for six years on our tired old boat.

They are a lot less toxic to vertebrates than cupernol type copper based preservatives and fungicides.

We found a log house supply website that sold "Impel Rods" made of borates-

You drill a hole shove the borate "rod" in and it does a slow release of preservative.

It won't work in a really wet (underwater) sort of spot but it's usually those damp corners and joints (like our deck beams) that have the rot issues anyway.

The Impel Rods will buy you some time until you get the courage to tackle putting a new piece of wood in...

You can also make up a mix of ethylene glycol and borax and boric acid or buy something called Bora Care to soak trouble spots in to kill the fungus.

Photo Uploader

If you are having problems uploading Photos or would like to add more click on this link for the Upload Form.
You can upload as many as you like and there is no need to resize them.