1964 26' Chris Craft Cavalier
by Theo Galzerano
(Huntsville, Alabama)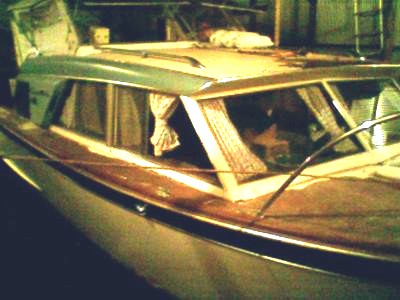 1964 chris craft 26'
Well first of all, great site!

I have already printed off good plywood repair info from here.



I aquired this 26' plywood cabin cruiser, by repurchasing an old family boathouse.



She has been in the water for 20 years, in a floating boathouse on the Tennessee River, Huntsville, Alabama.

Neglected.

One of the last ones in North Alabama still floating.

I have done a lot of reading and asking, as knowledge of wood boats seems to be gone from this area.

I am asssembling a 'how to' reference manual.

I dove the hull, only finding small rot at the lower edges of the transom. Exterior plywood. On the side and stern pieces.

So I will have to learn how to repair that area.

I think it is 1/2" hardwood plywood.

A couple of foredeck water soaked spots, I believe I can fill in with some type of wood based epoxy??

And one area that is cracked through near the cabin window.

The cabin area is mint, cushions shot though.

Drivetrain has 592 original hours, a 283. Motor is not stuck, I did the right methods before turning over.

I can't find a reasonable trailor for this 26' inboard boat.
Thought of trying to build some type of yard dolly to pull it with, any suggestions?
Maybe a wooden one?


While the original system worked quite well as a one-off post, it didn't allow for updating or posting new photographs etc.
That is why I have introduced the new Your Pages.
This is new 'Community' platform is for 2018.
It is designed to put you in control of your content, make it easier to for you to tell us about your Wooden Boat, upload photos etc. and most of all post updates as and when you wish to.
There is also a forum where you can ask any questions you may have about Wooden Boats and join in the conversations.
So, please come on over and join our community of likeminded Wooden Boaters.