Where do I start...?
by Alkis
(Athens - Pelio (Volos) Greece)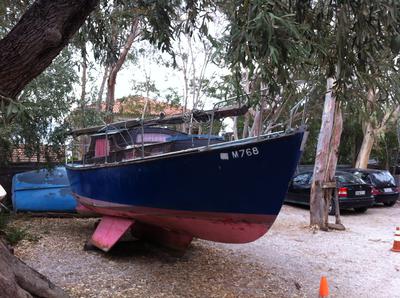 Hi there.

I have brought this 1975 Perryman Puck I sort of fell in love with, all the way from the Norfolk Broads to Central Greece (Pelio peninsula where I have a house - Pagasitikos Bay opposite Skiathos island) - via lorry not sail! - with the hope to slowly refurbishing it.

It looks very handsome in older photos and was actually in the water and floating when I bought it but it transpires that a lot of the ply-wood is rotten and needs replacing.

I am new to this (although I had another fibre glass boat), and wonder whether doing it patches-by patches and keeping it in wood or applying epoxy and fibreglazing it is best...?

Any ideas welcome!

Kind regards,

Alkis




While the original system worked quite well as a one-off post, it didn't allow for updating or posting new photographs etc.
That is why I have introduced the new Your Pages.
This is new 'Community' platform is for 2018.
It is designed to put you in control of your content, make it easier to for you to tell us about your Wooden Boat, upload photos etc. and most of all post updates as and when you wish to.
There is also a forum where you can ask any questions you may have about Wooden Boats and join in the conversations.
So, please come on over and join our community of likeminded Wooden Boaters.