What is best to do with a worn teak deck?
by Alan Jowitt
(Auckland, New Zealand)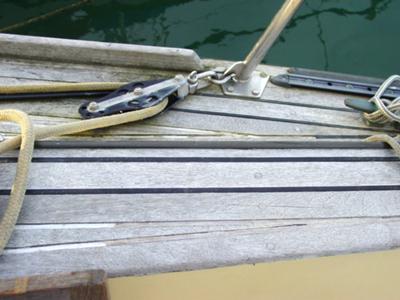 I have a boat with a teak deck on which so much material has worn away that the grooves are no longer deep enough to hold the caulking.

I understand the options are:

1. Cut the grooves deeper and recaulk

2. Remove the teak completely and replace

3. Fill the grooves and apply some surface, e.g. fiberglass and or paint

Option 1 is not my favourite since it requires skills that I do not possess, and, in places, there is probably not enough thickness in the remaining material to allow a groove to be cut.

Option 2 is ruthless, hard work but probably the best in the opinion of a pedant.

For my purposes option 3 seems a good compromise.

If anyone has carried out a similar procedure I would be grateful for any knowledge you may wish to share.

Advice thus far suggests fairing the surface, filling grooves with epoxy/micro balloon mixture, sanding, then glassing with West system epoxy.

The suggested hardener is 207 which apparently offers some UV resistance.

Having got the glass down, there is an option to paint the surface, or to apply a clear two-pot polyurethane which offers good UV protection if maintained properly.

Thanks in advance for any comments, suggestions or tips.