Fiberglass Removal
by Jim Kronholm
(Bristol, WI USA)
I'm just about finished heat stripping the varnish off my Wagemaker.

Problem is there is fiberglass from the bottom to top rail where the sides meet the transom.

Three inches on each side.

Some peeled off leaving the laminate good.

Heat does not work.

Is there a solvent that would remove the fiberglass without damaging the plywood?

Please advise as this project is ready for the trailer and garage storage until spring.

Thanks, Jim

-----------------------------------
Update Oct 24, 2015

Before I get started I would like to say thanks for your expert advice, Mike.(see below)

This project is coming along good so far except for some spots that were hidden by previous owners poor work.

Here are some pix with a brief discription.

1 This is a metal strip on the bow I would like to save.
2 Loose laminate on starboard front.
3 A bad patch.
4 Loose and missing laminate aft.
5 Another look. 6 Port side aft.
7 A few spots that need to be blended in.
8 Filler.
9 Some fiber glass that was rolled over the trim rail.
I don't want to take a chance at removing this if it could be matched with the new stain.

There is a few weeks before possible snow so can you give me anymore advice what to do next, and what to do when it warms up next year?
Jim
Can this be hidden?
by Jim Kronholm
(Bristol, WI USA)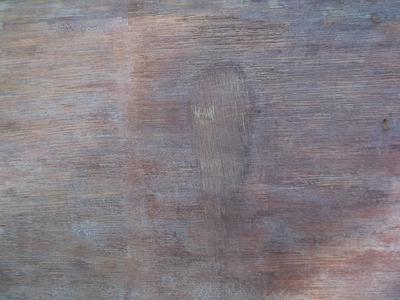 I'm heat stipping the sides and I see this spot that looks like a patch.

Someone did a poor job on it.

You can see the grain going the wrong way.

Maybe it's just scratched.

What can I do (if anything) to hide this.

My plan is to sand, stain, seal, and varnish.

Thanks, Jim
If you wish to add more photos (or videos) to your post or if you have any problems loading photos use the link below (there is no need to resize or adjust your photos).
But please use the 'Description Box' to indicate to which post the photos belong.
Click Here to securely send your photos,