1958 Peterborough Nomad
by Geoff Clarke
(Carleton Place, Ontario)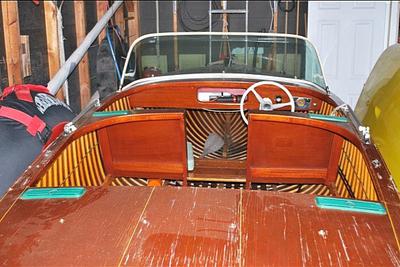 The mahogany plywood deck on the boat is now ready for varnishing, but I'm looking at colour variations in the finish (part due to bleaching, part ??).

I'm thinking that if I just varnish it that the discolouration will still be very evident.

It was suggested to me to stain the deck and that may result in a consistent colour across the whole deck?

But I'm not so sure that would be the case?

And thus my question..... would it be better to apply a stain to get a better looking result, or just varnish?

I don't want to start the varnishing if applying a stain first would be better?

I've posted some pictures with this message so that you can see what I'm seeing. THANKS!



My 1958 Peterborough boat has a mahogany plywood upper deck that I'm in the process of completely refinishing.

I've removed all the hardware and although most of it will go back in place, there are holes left in the plywood from fitting etc. that will not be going back on.

Those holes need 'repairing/filling in' before I start the final sanding etc.

I've read many articles & have been given different bits of advice as to how best to do that... ranging from using epoxy filler mixed with stain through to mahogany sawdust mixed into the varnish and then just filling the holes.

BUT I'm still undecided as to which is best way to repair those holes so that they don't 'jump out' when the varnish goes on?

The deck will not be stained but will get 5-6 coats of clear varnish.


While the original system worked quite well as a one-off post, it didn't allow for updating or posting new photographs etc.
That is why I have introduced the new Your Pages.
This is new 'Community' platform is for 2018.
It is designed to put you in control of your content, make it easier to for you to tell us about your Wooden Boat, upload photos etc. and most of all post updates as and when you wish to.
There is also a forum where you can ask any questions you may have about Wooden Boats and join in the conversations.
So, please come on over and join our community of likeminded Wooden Boaters.