To Ballast or not???
by Eddie Gregory
(Ireland)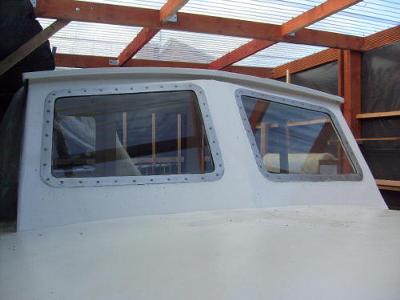 Hi Folks.

My 21-ft 60s SeaHawk planing fast fisher (New build) is coming along just fine with me just fitting the glass to the wheelhouse.

My big dilemma now is weight.

I have stuck to the original plans quite well but used slightly thicker oak and fir than shown for the frames, ribs & keel and glassed the whole hull.

I have also altered the wheelhouse slightly in an effort at providing more weather protection.

What I'm worried about is any alteration in weight above the waterline and should I account for it by using ballast?

As a rough guide I think I have added about 100lbs over and above what was in the plans for the wheelhouse with the addition of a wheelhouse rear bulkhead and side perspex windows.

Please have a look at my progress on my wee site at www.floatyourboat.info and tell me what you think.

I have had plenty of welcome feedback already from Mike and seek your knowledge and advice.

Am looking forward to the summer and the big launch, but do you think she will float???

All the best for now,

Eddie,
Ireland.