The Severn Estuary
by Mike
(UK)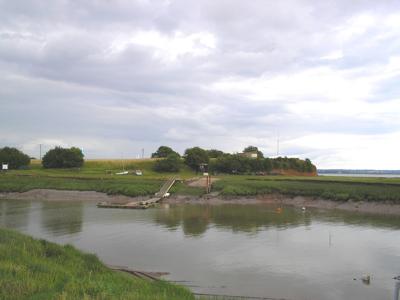 St Pierre Pill
Anyone sailing fro the Bristol Channel up the Severn Estuary should call in at St Pierre Pill.

'Pill' is a Welsh word meaning muddy creek and St Pierre Pill is the muddy creek where the Chepstow and District Yacht Club have their moorings.

Because of the extreme tides in the Severn Estuary all journeys must be go with the tide.

But don't be put off sailing by the cautions on the Admiralty chart - there are no dragons in this part of Wales, however, the tides must be obeyed.


The channel is clearly marked, all the way up to Sharpness and the Gloucester canal.

But for anyone sailing on the Estuary St Pierre Pill is an ideal stopping place to await the tide or just enjoy the quiet peaceful surroundings.

The moorings dry 3/4 hrs after local HW, with a bottom of varying depths of soft clean mud.

Bilge keelers can moor to either pontoon, fin keelers with deep keels are advised to take the port hand pontoon as viewed from the entrance.

Shelter at St Pierre Pill is excellent except perhaps at the very top of a high spring (>14m)with a S gale, when the moorings can become a little choppy - but still very safe.

You will always find a friendly welcome at The Chepstow and District Yacht Club, visitors are always welcome.








Join in and write your own page! It's easy to do. How? Simply click here to return to Your Boating Areas and Events.
While the original system worked quite well as a one-off post, it didn't allow for updating or posting new photographs etc.
That is why I have introduced the new Your Pages.
This is new 'Community' platform is for 2018.
It is designed to put you in control of your content, make it easier to for you to tell us about your Wooden Boat, upload photos etc. and most of all post updates as and when you wish to.
There is also a forum where you can ask any questions you may have about Wooden Boats and join in the conversations.
So, please come on over and join our community of likeminded Wooden Boaters.