Rum Runner aka Cat Nap
by Curtis Hewton
(Harrison Hot Springs BC)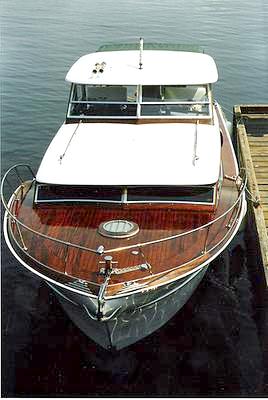 The Rum Runner is now for sale.
After the recent acquisition of the boat of a friend who has passed away we find ourselves with three boats in the water.
The Rum Runner has a current Sept 2011 survey with a value of $22500 so insurance and moorage is not a problem.
An extensive restoration completed in 1998 included all new motors,transmissions,shafts,props,tanks and all related mechanical systems.
This is a turn key and go boat with 600hrs only needing the continuation of exterior surface refinishing.
Any serious offer will be considered.
The boat is located in the Fraser Valley 1hr from Vancouver British Columbia.
For more info or photos contact Curtis at pacificyak@yahoo.ca
------------
The "Rum Runner" is a 1957 32' Chris Craft Commander.
She was purchased four years ago after spending many years neglected under a tarp.
After a lot of cleaning, fresh batteries and fuel a two week shake down run to Desolation Sound was in order.
The last four years have seen the installation of new canvas, holding tank and electric head, and lots of paint and varnish.
I hauled the boat out in September for replacement of three frames and five planks, new guards, a complete reef and recaulk on all the seams and new paint.
This is the first time I have taken on this kind of work including milling and bending the planking and am very pleased with the results so far.
My wife and I use the boat on Harrison Lake in the upper Fraser valley of B.C.
We are already planning our next trip to the coast(85 miles) just to get down the Harrison/Fraser river to Vancouver and then on to Gulf Islands next Aug.
While the original system worked quite well as a one-off post, it didn't allow for updating or posting new photographs etc.
That is why I have introduced the new Your Pages.
This is new 'Community' platform is for 2018.
It is designed to put you in control of your content, make it easier to for you to tell us about your Wooden Boat, upload photos etc. and most of all post updates as and when you wish to.
There is also a forum where you can ask any questions you may have about Wooden Boats and join in the conversations.
So, please come on over and join our community of likeminded Wooden Boaters.