Rounding Timber Spars
by John Sheen
(IOW UK)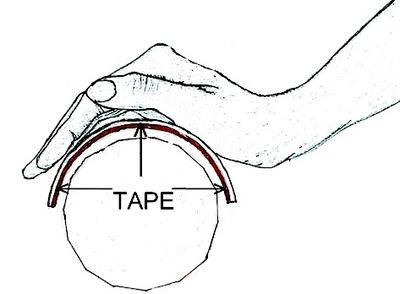 Here my handy tip for rounding timber spars, oars etc.

Take a piece of plastic/PVC drain pipe slightly bigger radius than the work piece, and cut it in half.

With three pieces of double sided tape attach glass paper, preferably the belt sander type, which avoids frequent changing, to the inside.

This works on any radius and is improved on larger items by fixing a handle to the top of a bigger pipe section.

This home-made tool works better the longer it is. Start across the grain and then with it, changing the grade of paper as necessary for a good finish.


More boat building tips from John
While the original system worked quite well as a one-off post, it didn't allow for updating or posting new photographs etc.
That is why I have introduced the new Your Pages.
This is new 'Community' platform is for 2018.
It is designed to put you in control of your content, make it easier to for you to tell us about your Wooden Boat, upload photos etc. and most of all post updates as and when you wish to.
There is also a forum where you can ask any questions you may have about Wooden Boats and join in the conversations.
So, please come on over and join our community of likeminded Wooden Boaters.