"Reminiscents"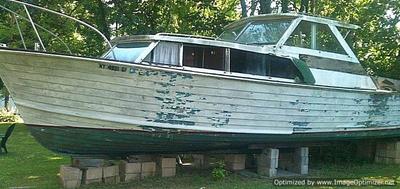 I just received a wooden boat.. For the cost of moving her.

She is a 1961, 34 ft Chris Craft Cabin Cruiser with a Flying Bridge.

Unfortunately, I have no idea of her history except she was given to my friend several years ago and had been sitting in a backyard, waiting to be rescued.

We will hopefully be moving her in the next few weeks to a work area.

She is very close to what I remember my dad's boat looking like when I was young..

Hence, her new name.. She is currently unnamed..

She sleeps 6 and has a full bath with shower, complete kitchen, dinette, bunk beds and a V berth.

She has been painted several times over the years but will be returned to her original wood with a clear finish.

We realize she is a big undertaking and she may not see water for a couple of years.

We anticipate that with some time, effort, TLC.. And oh, yeah, money, she will once again grace the waterways with dignity.

I will post pictures of her in the coming weeks.

While we are waiting to move her we are removing some of the interior parts and placing them in storage where we can refinish them.