Recaulking the seams on a very small (6') pram design rowboat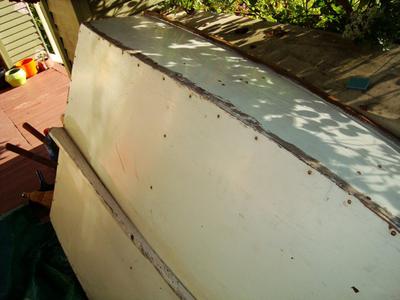 bottom of boat
I have a very, very, small wood rowboat - 6 ft long.

I bought it last May and have not put it in the water yet.

It had probably been out of the water for a while.

It has very few seams - the bottom on done in one piece of wood.

But it looks like some of the caulking if coming out where the bottom meets the sides.

My Questions:
Should I do something to get the wood to swell - like filling it with water or turning it upside down and covering the bottom with wet blankets and towels?

Should I remove the old caulk? It looks like someone had done some caulking previously.

What type of caulking do I use?

Many of the post talk about cotton but I am not sure is that is correct for my tiny little rowboat.

I have included some photos. Any suggestions appreciated.
While the original system worked quite well as a one-off post, it didn't allow for updating or posting new photographs etc.
That is why I have introduced the new Your Pages.
This is new 'Community' platform is for 2018.
It is designed to put you in control of your content, make it easier to for you to tell us about your Wooden Boat, upload photos etc. and most of all post updates as and when you wish to.
There is also a forum where you can ask any questions you may have about Wooden Boats and join in the conversations.
So, please come on over and join our community of likeminded Wooden Boaters.