North House Folk School Boats to Tools Auction

(Grand Marais, MN, USA)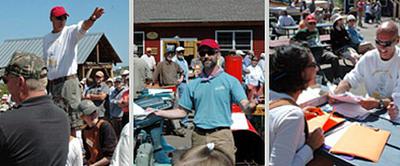 North House Folk School Boats to Tools Auction
North House Folk School
,
Grand Marais
,
MN
,
USA

We're on the Lookout – From Boats to Tools!

Do you have a slumbering wood canvas canoe in your garage?

Has your collection of antique (or modern!) tools reached capacity and it's time to let go of a few?

Is that pile of cozy northern quilts just a little too tall?

Why not give your treasures a second life by donating them to the Boats to Tools Auction at North House Folk School?

A classic element of the Wooden Boat Show, the Boats to Tools Auction tells the adventure of life in the North.

Funds raised go toward brigning the international speakers, first-rate coursework, and regionally revered special events to North House's campus in Cook County every year.

North House is accepting donations of types:
• Boats of all types / Boating Supplies / Boating Books
• Woodworking Tools / Woodworking Supplies / Woodworking Books
• Outdoor Gear / Camping Supplies / Outdoor Related Books
• Traditional Craft

The Wooden Boat Show has become a tremendously successful North Shore tradition, welcoming 2500+ visitors to campus.

Each year the festival includes a speaker series, craft demonstrations, wooden boat display, a life-sized puppet pageant and silent auction.

The Boats to Tools Auction takes place June 18 during the Wooden Boat Show.

Thank you!

Download more info at http://www.northhouse.org/programs/events/BoatsToToolsAuction.htm or please contact Kaitlyn at 218-387-9762 or kbohlin@northhouse.org
Join in and write your own page! It's easy to do. How? Simply click here to return to Your Boating Areas and Events.
Want to add more photos?