North House Folk School Boats to Tools Auction

(Grand Marais, MN, USA)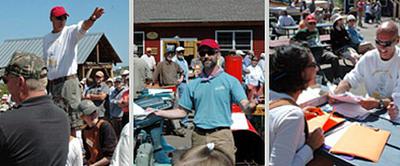 North House Folk School Boats to Tools Auction
North House Folk School
,
Grand Marais
,
MN
,
USA

We're on the Lookout – From Boats to Tools!

Do you have a slumbering wood canvas canoe in your garage?

Has your collection of antique (or modern!) tools reached capacity and it's time to let go of a few?

Is that pile of cozy northern quilts just a little too tall?

Why not give your treasures a second life by donating them to the Boats to Tools Auction at North House Folk School?

A classic element of the Wooden Boat Show, the Boats to Tools Auction tells the adventure of life in the North.

Funds raised go toward brigning the international speakers, first-rate coursework, and regionally revered special events to North House's campus in Cook County every year.

North House is accepting donations of types:
• Boats of all types / Boating Supplies / Boating Books
• Woodworking Tools / Woodworking Supplies / Woodworking Books
• Outdoor Gear / Camping Supplies / Outdoor Related Books
• Traditional Craft

The Wooden Boat Show has become a tremendously successful North Shore tradition, welcoming 2500+ visitors to campus.

Each year the festival includes a speaker series, craft demonstrations, wooden boat display, a life-sized puppet pageant and silent auction.

The Boats to Tools Auction takes place June 18 during the Wooden Boat Show.

Thank you!

Download more info at http://www.northhouse.org/programs/events/BoatsToToolsAuction.htm or please contact Kaitlyn at 218-387-9762 or kbohlin@northhouse.org
Join in and write your own page! It's easy to do. How? Simply click here to return to Your Boating Areas and Events.
While the original system worked quite well as a one-off post, it didn't allow for updating or posting new photographs etc.
That is why I have introduced the new Your Pages.
This is new 'Community' platform is for 2018.
It is designed to put you in control of your content, make it easier to for you to tell us about your Wooden Boat, upload photos etc. and most of all post updates as and when you wish to.
There is also a forum where you can ask any questions you may have about Wooden Boats and join in the conversations.
So, please come on over and join our community of likeminded Wooden Boaters.