No Idea What I Have
by Mike
(Grand Blanc, MI USA)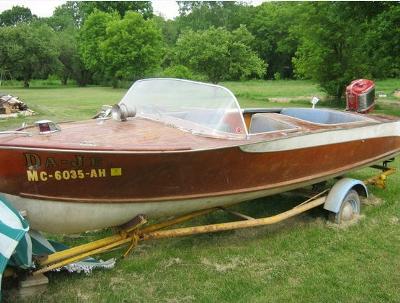 Boat
I went to an auction today and purchased a 14' runabout for the 1950s Mercury Mark 30 that was on the back.

The boat has a four inch hole where the keel ends at the bow.

I bought the boat for the jewelry and hardware as I am going to build the Phil Bolger Diablo and all hardware is in excellent shape.

Problem is I have fallen in love with this little boat.

Only took the few minutes I spent removing the outboard and some of the choice pieces.

Once I strip the rest of the hardware I am going to flip it over and get a good look at the damage.

The boat is cold molded and I am not sure how I will get it off the trailer and onto saw horses.

I have seen pictures of guys using slings but I do not know if my rafters in my garage could take the stress as they are only 2x4 engineered rafters.

Any suggestions would be greatly appreciated.

I also do not know the manufacturer as the only sticker on the boat says United States Outboard Inc., Admiral so any help identifying this would be helpful.

Google is useless as Admiral brings up all kinds of Navy references and I could not locate anything on US Outboard Inc.