My First Wooden Boat Project
by Jeff
(St Cloud, MN, USA)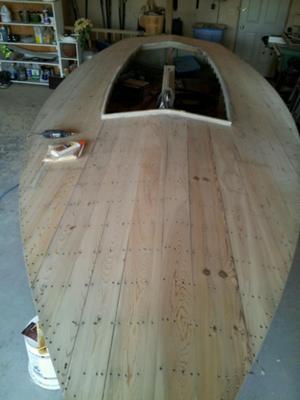 I have recently taken on the task of restoring a small sailboat from the early 60's.


Right now I've stripped all the paint off of the boat and have been sanding the whole boat so that it is down to just the original wood.
I don't have any experience in this sort of thing, and would very much appreciate any information that you could throw at me!
Here are just a couple of my questions...
What type of stain, sealer, and varnish?
Does the top of the boat require a different finish than the bottom?
What keeps it waterproof?
What is the right sandpaper grit?
How would you recommend filling any cracks, nail holes, and flaws in the wood?
I do have some pictures of my progress and what the boat looks like if that would help.
Thank you for taking the time to read my email and hopefully you can help answer some or all of these questions!
Jeff Halbakken
While the original system worked quite well as a one-off post, it didn't allow for updating or posting new photographs etc.
That is why I have introduced the new Your Pages.
This is new 'Community' platform is for 2018.
It is designed to put you in control of your content, make it easier to for you to tell us about your Wooden Boat, upload photos etc. and most of all post updates as and when you wish to.
There is also a forum where you can ask any questions you may have about Wooden Boats and join in the conversations.
So, please come on over and join our community of likeminded Wooden Boaters.